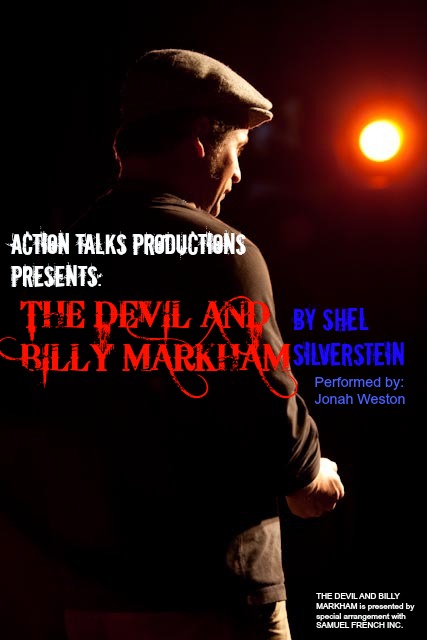 Shel Silverstein's The Devil And Billy Markham first appeared as a six part epic poem in the January 1979 issue of Playboy and subsequently as a one act play presented at Lincoln Center along with David Mamet's one act Bobby Gould In Hell.
Jonah has created an hour long evening of performance with this epic play and has been presenting it in various venues large and small for private parties and events.
Please contact Jonah directly for more information on scheduling and pricing information.
Reviews for The Devil and Billy Markham
Weston has a very strong presence and a grip on the story and its telling that grabs us by the throat and won't let go. The weight of this grand struggle for a man's eternal soul is embodied in the actor's movements, in his harsh and whiskey-soaked voice, and in the urgency of his telling. "The Devil and Billy Markham" is a fine piece of solo performance work. Weston is talented and accomplished and he owns this story in the way any great storyteller must own his story. I walked out of this little feeling like I had to find somebody and tell them about this guy I met in the bar, this guy who had the most incredible story about another guy who lost his life on a roll of the dice, and who regained his soul in the depths of Hell. If you're in Portland, or if Jonah Weston is back in town, make a point of seeing this show. It's a story you won't forget.
The primary challenge of a one-man play is keeping the characters distinct. Playing God, the Devil, and a sleazy hustler is no easy feat. Fortunately, Mr. Weston pulled it off brilliantly. Never did I have even a moment's confusion as to which character he was voicing. I could have closed my eyes and still known exactly who was speaking. Of course, that would have been a shame, as I would have missed Mr. Weston's expressive visual cues. If you missed The Devil and Billy Markham, or saw it and wish to again, there's a good chance it will return to Seattle in the not-so-distant future. It was a fantastic show, and anyone who can should see it.
In the role of the hell-bound country singer Billy Markham, actor Jonah Weston convinced me that if he ended up in a seedy dive with Markham, the two would swap stories, ingest bourbon in fountain soda-sized quantities, and Markham would say Weston was an 'alright son-of-a-bitch'–that is to say, he's good.
Shel Silverstein's epic poem "The Devil And Billy Markham" is currently recounted at the Curious Comedy Theatre. When actor Jonah Weston comes onto the stage dressed like a regular guy and begins the remarkable tale of a man who bets with the devil, the feeling is that one of those great tavern storytellers around whom everyone naturally gathers just stepped into the room for a drink.
Director Jamie Rea and performer Weston deserve credit for understanding the kind of art that people still need — stories of life and love, and heaven and hell — presented in a way that is funny and whimsical and that people can relate to. And they deserve applause for doing it in a way that uses all the craft and artifice of theater, and making it look easy.
Weston's pleasure in reciting Silverstein's humorously witty and sometimes playfully raunchy poetry is apparent. Weston gives each character a physical reality as well as a distinct vocal quality. Whether kneeling on the floor as Billy throwing dice in a fixed game of craps, writhing on a stool to capture Billy's discomfort while roasting on a spit in hell, or strutting around the stage as the cocky Devil tossing off orders to inadequate henchmen, Weston gives a concrete sense of the physical lives of the story's characters. Throughout the piece Weston subtly varies vocal tone and pitch to accommodate the mood and intensity of the action but also takes advantage of theatrical elements like lighting to reinforce the shifts in atmosphere. Weston is an able entertainer, who knows how to engage and enchant his audiences.